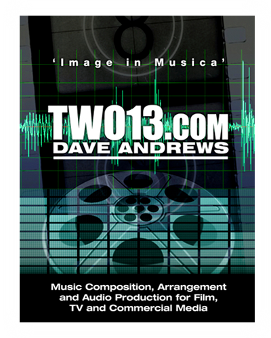 July 2013.

Hi folks. I hope all is well!
I'm currently putting the finishing touches on a new EP, which is a bit different from anything I've done so far, but something I've been thinking about doing for years. Writing and recording is almost done, and I'm in the process of partial mixing and mastering with a fantastic producer / engineer, who makes my material sound better than I could have expected. More about that in the blog section as it happens.

Last year, I was fortunate enough to work on a variety of films and trailers, as well as a full tour across Europe, which took me to Belgium, Holland, Germany, Poland, Czech Republic, Slovakia, Hungary, Romania, Bulgaria, Serbia, Austria, Slovenia, Switzerland, France, Spain and Portugal - which certainly kept things busy.

I have recently finished a second short film for director & animator extraordinaire, Lee Hardcastle, - which is called An Alien Claymation, and delivers animated, cosmic terrors the likes of which you've never seen!

I've also very recently contributed score & sound design for a new short film, which has been entered for the Horror Channel Shortcuts To Hell competition, which was a blast to make.

My score for INBRED (Directed by Alex Chandon) won best soundtrack (hooray) at the XIII Costa Del Sol Fantasy Film Festival in Spain, and we scooped best Special Effects at the Bram Stoker International Film Festival.

So, as ever, click on one of the links below for more details on the above!
Feel free to tweet on Twitter, show your face on Facebook or just get in touch!
Over and out.